This product has no reviews yet.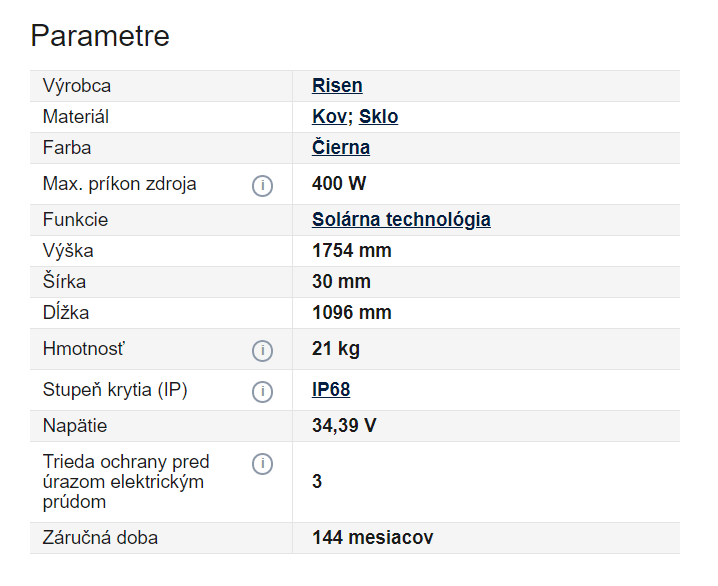 Risen RSM40-8-400MB FULLBLACK
Technical Specifications & Installation Manual Datasheet
---
RISEN ENERGY 400W RSM40-8-400M

product description

Risen RSM-8-400M photovoltaic solar panels achieve higher efficiency thanks to the use of Mono Perc cell technology. Internal consumption is reduced by low current density technology. MBB and HC technologies, which reduce losses caused by microcracks and shading, also contribute to higher yields.

The panels are suitable for subsidized and non-subsidized installations. SVT code SVT30821 for the New Green Savings subsidy program (2021-2030)

Product parameters:

- higher efficiency Mono Perc Cell Technology

- low current density technology for effective reduction of internal energy consumption

- MBB and HC technology to reduce the negative impact on yield caused by microcracks and shadows

- high output power leads to lower BOS costs ("Balance of system cost" - designation for all components of photovoltaic systems except modules, it is e.g. wires, switches, covers, fuses) representing the largest share of the costs of photovoltaic projects. Improving the efficiency of solar systems, specifically with higher output modules and a 1,500 volt inverter, will achieve BOS cost savings beyond hardware costs, helping solar to be competitive with other power generation sources in the world.

Technical parameters:

- nominal power: 400 W

- type: monocrystalline

- module efficiency: 20.8%

- maximum current (Imp): 11.64 A

- maximum supply voltage (Vmp): 34.39 V

- open circuit voltage (Voc): 41.30 V

- short circuit current (ISC): 12.34 A

- maximum system voltage: 1500VDC (IEC)

- output tolerance: 0~+3%

- connector type: MC4 / MC4 compatible

- front glass: anodized aluminum alloy type 6005-2T6

- degree of protection: IP68

- module dimensions: 1754×1096×30 mm

- cell type: Mono-crystalline

- number of cells: 120 (5 x 12 + 5 x 12)

- dimensions: 1754×1096×30 mm

- weight: 21.5 kg

- frame: anodized aluminum alloy type 6005-2T6

- frame color: black

- output cables: Risen Twinsel PV-SY02 MC4 compatible
This product has no reviews yet.